Australian barrister, human rights advocate and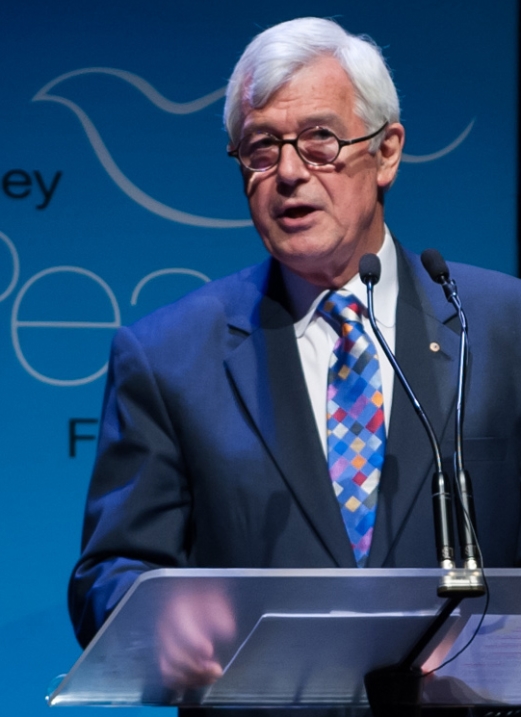 author, Julian Burnside AO QC was awarded the 2014 Sydney Peace Prize on Wednesday 5th November 2014, at Sydney Town Hall. He delivered the 2014 City of Sydney Peace Prize Lecture, and Professor The Hon. Dame Marie Bashir presented him with the Prize in front of nearly 1500 people.
The Sydney Peace Prize Gala Reception followed directly after the Lecture and Award Ceremony, where 200 guests had the opportunity to meet Julian Burnside and engage in a Q&A moderated by distinguished journalist Richard Ackland and enjoy entertainment from The Chaser's Charles Firth, whilst enjoying drinks and canapés.
The Sydney Peace Prize Jury's citation reads:
Julian Burnside AO QC: "For his brave and principled advocacy for human rights and for those wronged by government, for insisting that we respect our international legal obligations toward those seeking asylum, and for his unflinching defence of the rule of law as a means to achieve a more peaceful and just society."
"Julian Burnside is a splendid choice. All nominations were remarkable people doing extraordinary things in a myriad of ways, but the Jury chose Julian Burnside for his
unflinching advocacy and commitment," says Jane Singleton AM, the Director of the Sydney Peace Foundation.

"I am deeply honoured to be selected to receive thisyear's prize, especially in a year when Australia's reputation is being tarnished by its intentionally harsh treatment of asylum seekers. I have long admired the work of the Sydney Peace Foundation. It continues to advocate for human rights and promote peace. It helps keeps our focus on the importance of the rule of law, the need to treat all human beings with compassion and the need to ensure that human rights are respected," says Julian Burnside AO QC.
"Australia is currently marooned at a moral and legal crossroads over policies towards asylum seekers and refugees," says the founder of the Foundation, former Director, Chair and current Vice Chair, Emeritus Professor Stuart Rees AM, "Julian Burnside's decades long advocacy of the of the human rights of some of the world's most vulnerable people makes him an extremely worthy recipient."
Read Julian Burnside's Speech

Julian Burnside with Peace Prize