HOKKAIDO PRIZE TO HIRST
(from OBJECT 1-94)
The highly coveted Hokkaido Museum of Modern Art Prize was won by Brian Hirst in March for one of his works from the Object and Image series, Votive 1/94. Brian's work was the winner from a field 95 world class artists working in glass from 19 countries, including Dale Chihuly, Ligno Tagliapetra, Dick Marquis, Richard Meitner, Dana Zamecnikova and David Reekie. The A$13,000 award is selected from the Museum's international survey exhibition of contemporary glass, called 'World Glass Now', which has been running as a triennial since 1982.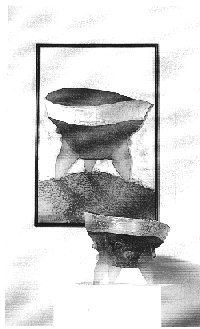 World Glass Now is one of a number of regular survey shows which have grown in size and sophistication over the last four decades along with the development of studio glass itself. The New York Corning Museum's 'Glass 1959' was one of the earliest and became a bench mark for its period, showing glass by individual artists as opposed to glass made by large manufacturing houses of Europe and which had traditionally been shown in World Fairs. Corning produced another survey show twenty years later, 'New Glass - A Worldwide Survey and in the meantime many other museums and institutions began to orga- nize similar survey glass shows, particularly in Germany and the United States and, by the early 1980's, in Japan. By the early1980's Australian artists were participating in international shows. This vigorous participation in overseas exchange has been a constant feature of the medium's development in Australia. The relatively long track record of the World Glass Now show, its selection criteria and its consistently good catalogue documentation make it one of the world's most noted glass exhibitions and one which has attracted significant attention in this country.
But the Hokkaido prize is the only one of its kind on a world scale. The fact that it was won bv an Australian practitioner early in his career signals both a maturity in Brian's work and a shift in the perception of Australian glass. In his winning piece, Votive 1/94, Hirst has arrived at some of his most powerful work to date. He has done this by working through his themes in a patient and productive way over more than a decade. It is satisfying to see that in recognizing Hirst's work the Hokkaido selectors have ignored the quest for eternal novelty that can often impair the curatorial vision of large survey shows. Hirst first began work on this current theme with the Cycladic series of blown and cast vessel forms of the early 1980's. These earlier pieces were calm and monolithic, self sufficient, standing tall, markers in the landscape. They were modern artefacts recalling ancient themes. They were intellectually and physically arresting, with some of the arrogance and confidence of youth. By the mid 1980's his offering bowls had developed rich colourings and encrusted surfaces that softened the monolithic stance and introduced disparities of two and three dimensions. Colours moved to include pastels with barely seen hieroglyphic tracings. The vessel shapes softened and distorted, relaxing on the ground in slow acquiescence to gravity and the forces of time.
The later Guardian vessel series continued these vessel forms in various moods of assertion and acquiescence, always with the surfaces richly endowed with hieroglyphics, engraved patterns, drawings, veiled layers and encrustation, or black and gold as rich as and smooth as night. Hirst's game of playing between the rules of two and three dimensions became more sophisticated with the transparent vessel surface which at the same time provided a flat picture ground. At this time Hirst also began working on large flat panels of sheet glass in which he depicted the same vessels by engraving, colouring and flat relief. This added another element to the dialogue between two and three dimensions, now that the vessel itself had been transformed as well as its surface. The panel images became echoes and memories of the vessels themselves. In the most recent pieces, and as in the award piece Votive 1/94, the vessel and the panel depict mirror images of each other, each containing within itself two and three dimensional properties. For the viewer, the options are multiple. Brian will be flown to Tokyo in May to receive his award.
Nola Anderson